About us
The Living Tumor Laboratory is a Canada-based laboratory located in Vancouver, British Columbia, that provides high-quality services for translational cancer research, drug discovery/development and personalized cancer therapy.
Our mission
· To improve the predictivity of pre-clinical drug efficacy evaluation of new or existing anti-cancer drugs, using patient-derived, clinically highly relevant cancer xenograft models.
· To provide cancer studies with a highly humanized in vivo cancer model and develop a translational link between the laboratory and the clinic.
· To provide a service for identifying which drug regimen, from a group of selected drug regimens, has potentially the highest efficacy for an individual patient and can be utilized for the patient's personalized chemotherapy. To this end immuno-deficient mice are used which carry first-generation cancer tissue xenografts derived from the patient's malignancy.
Our approach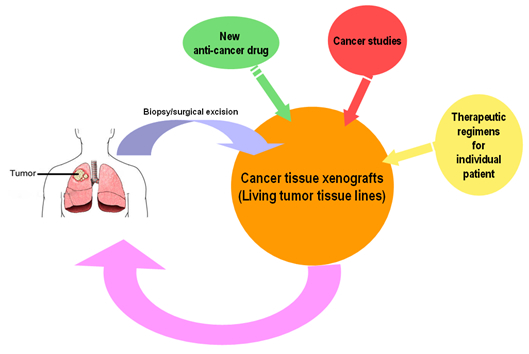 We have developed a routine procedure for successfully grafting and serially transplanting primary human cancer tissues into immuno-deficient SCID mice. Using this subrenal capsule xenograft (SRCX) methodology, we have established more than 100 transplantable cancer tissue lines from a variety of low and higher grade malignancies.